Exquisite Dining Amid The Maldives' Turquoise Lagoons
OVERVIEW > DINING > RESTAURANTS & BARS
Indulge your taste-buds with Maldives' finest dining at the Sheraton Maldives Full Moon Resort & Spa. With 7 varied restaurants and bars at the resort, you will never run out of options for places to eat during your time in the Maldives.
Let your palate globe-trot the world of culinary cuisines at our contemporary and al-fresco restaurants as you look upon the stunning lagoon and Indian Ocean. Enjoy great cocktails and snacks at our beach and lounge bars to keep you rejuvenated at all times. With barbeque nights and endless seafood delicacies along with Maldivian delights accompanied by the pleasant sea breeze and ocean views, the enchanting setting makes dining at the resort truly memorable.
Whether you seek to enjoy that perfect sunset or relax under the stars, the restaurant and bars at The Sheraton Maldives Full Moon Resort & Spa will perfectly complement to your island experience.
FEAST
Casual Dining
Feast, our buffet restaurant, offers a relaxed atmosphere with resort-style décor and a menu offering variety of cuisines. Daily themes keep things interesting at breakfast and dinner, and various beverages are available.
SAND COAST
Al Fresco Dining
Sand Coast offers informal, al fresco dining on a deck beside the lagoon or in the coolness of the thatched roof pavilion. Choose from an à la carte menu offering a wide range of dishes influenced by regional cuisine.
SEA SALT
Fine Dining - Beach Grill
Adjacent to the lagoon, this unique restaurant allows you to enjoy the intimate atmosphere of casual, outdoor dining next to the beach. Enjoy live cooking stations as the chefs customize your meal just the way you like it.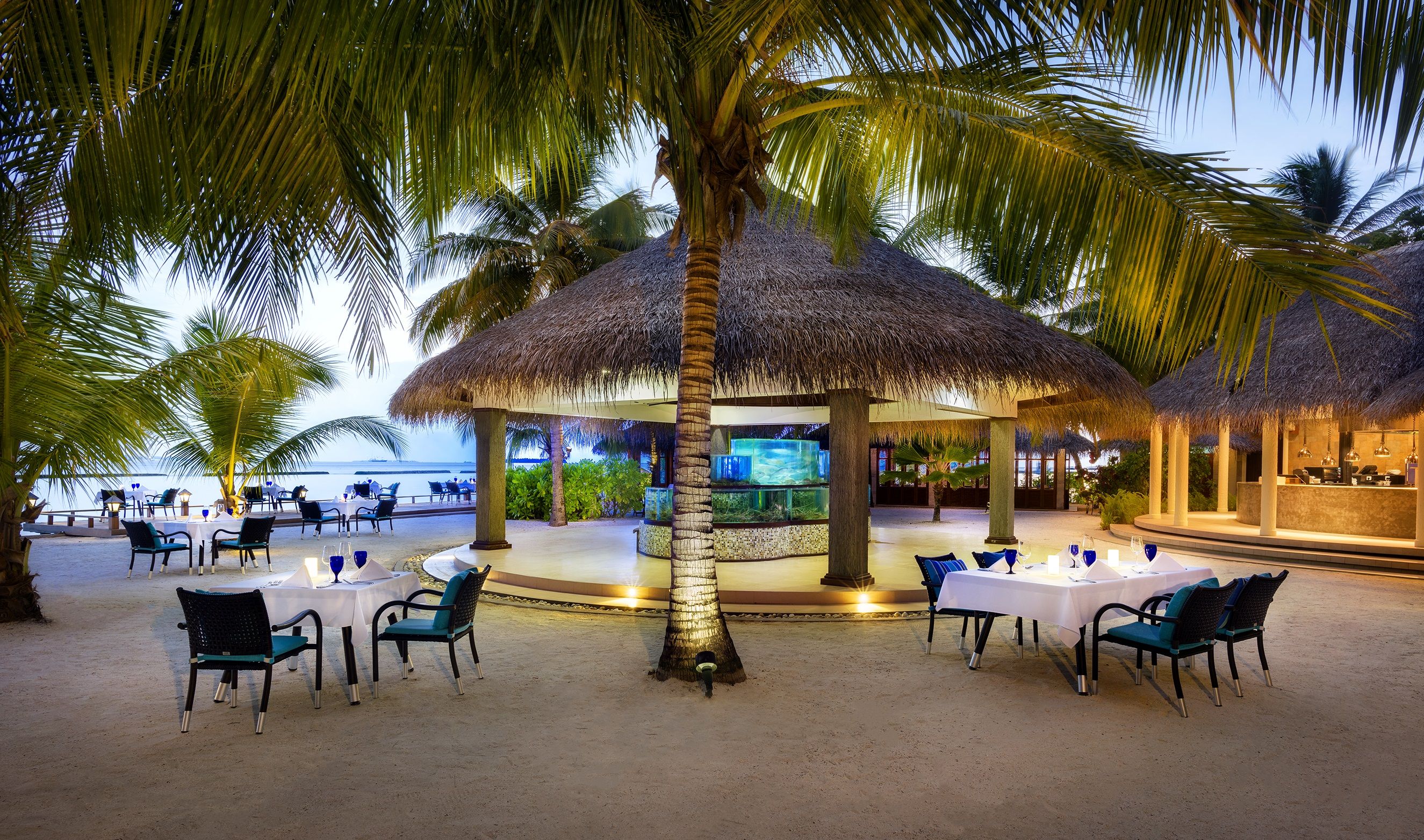 BAAN THAI
Thai Specialty
Experience the delights of Thai food with all its variety, taste, and tradition in this contemporary, air-conditioned restaurant. Our Thai chefs will blend their culinary skills with tasteful innovations to dish out a memorable feast for you.
T FOR TEAHOUSE
Cafe and Coffee Place
The Tea House serves tangy asian flavours from freshly prepared chinese dim sum, noodles, pastries, light snacks to a stunning selection of exotic teas from different parts of the world.
ANCHORAGE BAR
A Gathering Place - Bar/Lounge
Enjoy great cocktails and snacks along with a panoramic view of the ocean. Take in the gorgeous sunset or relax under the stars amid the scenic beauty of Maldives while ambient background music completes the experience.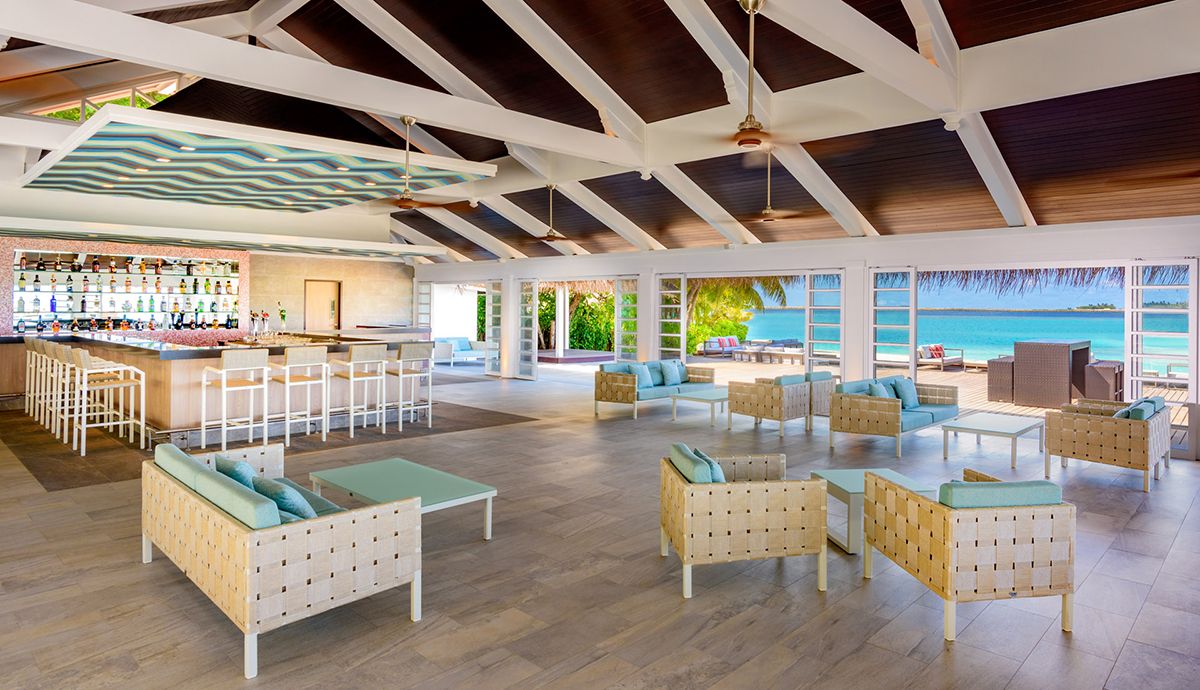 KAKUNI HUT
Beach Bar
Our Kakuni Hut serves your favorite drinks, delivered right to you as you relax on the beach with frineds and family.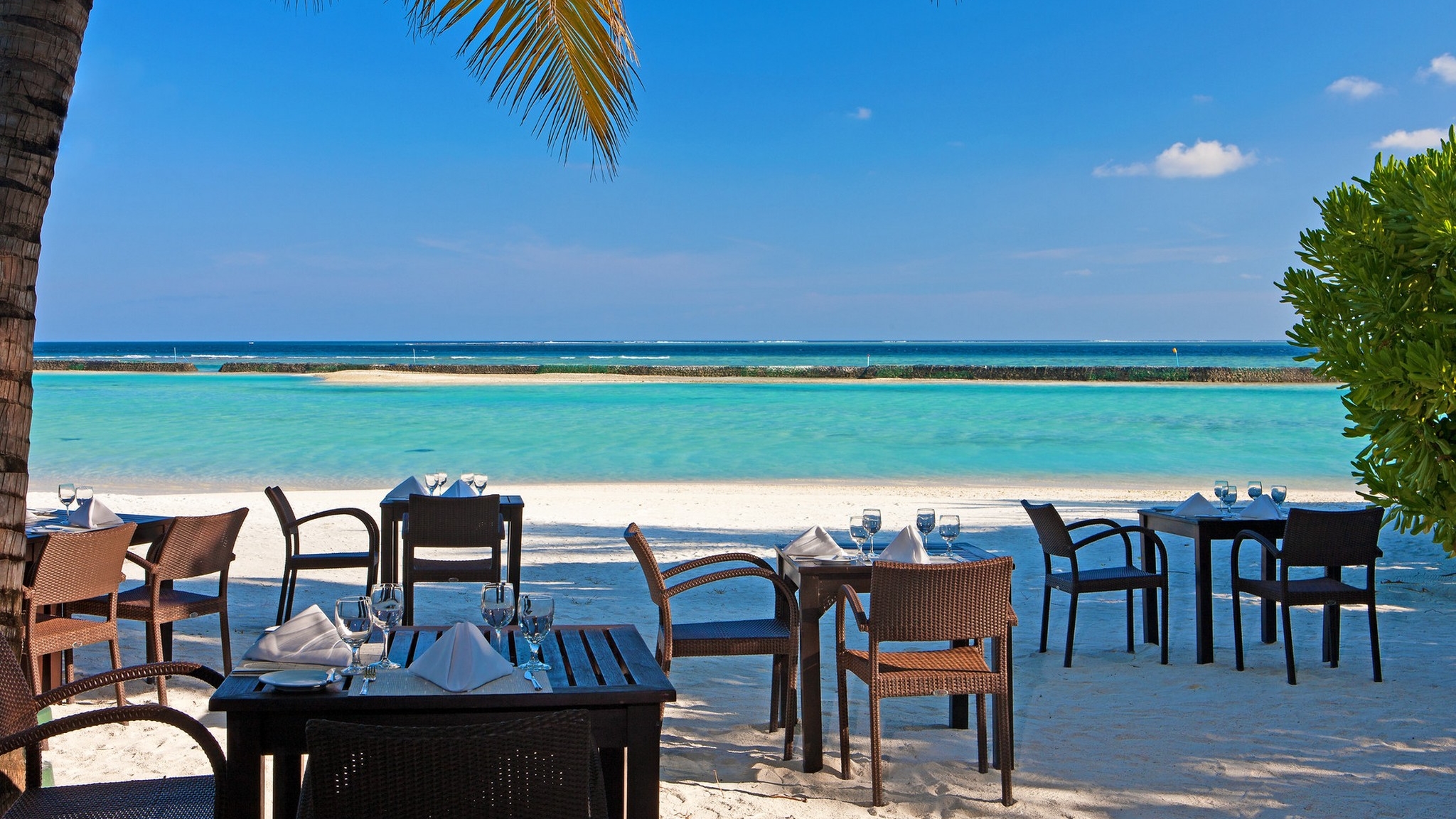 ---
Full Board - Meal Plan Package
Escape from it all and dine as you please:
Daily breakfast for two people at Feast
Daily lunch for two people at Sand Coast
Daily buffet dinner for two people at Feast
Complimentary WiFi Throughout your stay
Unlimited access to 'Sheraton Fitness' throughout your stay
Terms & Conditions
© 2018 Marriott International, Inc.
SPECIAL OCCASIONS
Private Dining
Have an occasion to celebrate? Opt for something special like private dining by the beach or watch a movie screening under the stars.
Email fnb.coordinator@sheraton.com to find out what options is available.
Maldivian Cooking Classes and Workshops
Fancy whipping up your own dishes? Cook some local Maldivian curry or grill some fresh seafood straight from the ocean. If you are vegetarian or have any special requests, we are glad to accomodate.
For bookings and enquiries, kindly email fnb.coordinator@sheraton.com